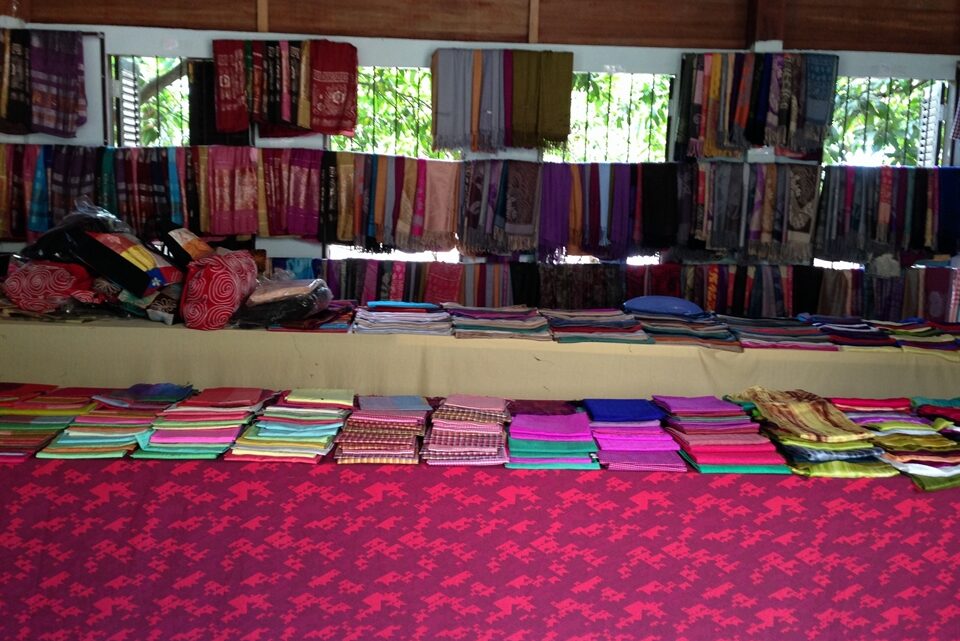 What is made from silk? – Khmer Silk Products
February 12, 2020
Silk weaving plays an integral part of history and also a part of the culture of living for Cambodian people. Khmer Silk Products, a finished product of weaving handicrafts, It also indicates the national identity, links to traditional culture, and socially expresses a civilization that has been flourishing from ancient times to today, and currently, Cambodia silk products is also recognized internationally for its quality standards.
History of Silk Products
Base on the documents was extracted from Takeo province that has been producing silk since the Funan era. Today, weaving and silk products are important for the five provinces, and the famous and high quality silk fabrics are from Takeo, Battambang, Banteay Meanchey, Siem Reap and Kampot. Previously, silk weavers were getting paid only. The silk products worn only for the royal family and the elite family in the top ranking in the royal government, but currently every people can ware and was used for weddings party, funerals ceremony, or other events.etc.
Many ancient plants were painted in traditional Khmer silk with red accents from Insects, yellow and green came from the DEUM SRENG CHHKER trees, the white and the orange from the CHHLOS trees and black from the SLEUK KOR THKOV trees. Khmer textiles include five colored HAULL skirts, a color HAULL skirt, HAULL KBEN skirts, and HAULL KDANG skirts. The model is based on a prototype and mixed with animal and plant shapes such as flowers, insects and frogs.
What is made from silk ?
Khmer silk is made of silk, with raw materials from the nests of silkworms, which eat cassava as a food and it is used to make Khmer silk skirt (is called in Khmer name as Haull, Pha Moung, Sabarb), handbags, bags, souvenirs and other items. Among of these products has been popularly ordered by national and international customers to be used in everyday life.
Ms. Sinath, a craftswoman in the community of Srach Chik Village, Sras Chik Commune, Phnom Srok District, Banteay Meanchey Province and a specialist in the production of Khmer silk skirt i.e Haull, Pha Moung, Sabarb for men's and women' clothing also explained that Khmer Silk is made from handmade weaving industry. Khmer silk is used in natural dyes that can be made into three types of silk fibers, including silk, silk lace, and head silk, these are the most popular silk craft in the current time.
Silk Production in Cambodia
Some silk weaving handicrafts in Siem Reap province say that Khmer silk is attracting numerous foreign tourists and Cambodians. A Khmer silk handicraft and sculpture marketed to tourists, said Ms. Sivanna, Sales Manager of Artisans Angkor, during the festival's rich season, The five branches of Artisans Angkor in Siem Reap that sell silks and souvenirs made of silk as well as other items for the tourists who visited Angkor Wat Temple around 30,000 foreign tourists and Khmer people also have most activity of buying Cambodian silk products as well.
"In some months, orders are up to 30,000, so the influx of customers is coming to all of our stores. They can buy a variety of products all at once," she said. Supports high quality products. For Business Partners Travel Agency, we have been very supportive of our hotel guides.
For international exporting
According to sources from the Ministry of Commerce, the export of Khmer silk products made by the Cambodian people, following the traditional Khmer tradition, who do the comparing of exhibition in the various international country such as, Japan etc. to attract foreign visitors for silk products made by Cambodian people which is no modern industrial production. At the overseas, they began to become more and more familiar with Khmer silk, and they became accustomed to the clothing because they loved to be natural.
According to figures from the Ministry of Commerce, Cambodia can earn up to US$ 30 million a year if the Cambodian silk industry is upheld. Cambodian silk products will be on sale in the US, Singapore, China, Hong Kong and Europe with full tax exemption.
Read more articles for order products online as follow
Conclusion
We have been able to determine that Khmer silk products and the craftsman's fine work in producing both local and international guests are expanding the market potential of traditional weaving and reaching the international market share. In fact, 100% of Khmer silk products are from the provinces, remote districts of the Kingdom of Cambodia. If the current and future trends of the Cambodian silk market is thriving, it is a new economic marker to contribute to poverty reduction by improving the living standards of the poor and encouraging them to increase their production of Khmer Natural Silk.
If you want to order this type of silk productions from original handicraft man and delivery direct to your country destination please contact us or order by clicking on the products in this Shop Here.
You can buy any Products from AMAZON STORE HERE.

If you have any questions, doubts, or discussions, please drop your comments below – Thanks